Briefing 54 - June 2014 - Scottish Water: Privatisation of capital spending


KEY POINTS:

Despite political support for public ownership, the privatisation sharks are circling around Scottish Water.
92.5% of the capital programme delivery is privatised.

Claims that these jobs are located in Scotland are difficult to verify.
We need to remain vigilant if we are to keep our public service.

17 June 2014

Scottish Water Capital Investment Programme shows privatisation in epic proportions


UNISON Scotland comment on Scottish Water Capital Investment (pdf)

Scottish Water is a public sector success story, but we are only too aware that there is a powerful lobby for privatisation.

New figures released under Freedom of Information laws show that in the last four years for which figures are available, 92.5% of Scottish Water's capital programme has been delivered by private contractors, 7.5% by Scottish Water staff.

By any standard that is substantial privatisation.

The gradual drip of privatisation has reached epic proportions in these disclosures about the capital programme.

The privatisation sharks are still circling Scottish Water and Scotland needs to remain vigilant.

Click here for pdf of UNISON response

Click here for Press release: Gradual drip of privatisation has reached epic proportions in Scottish Water, says UNISON - 3 June 2014

3 June 2014

Right to Water hearing Monday 17 Feb 2014

Water is a public good, not a commodity. On Monday 17 February there is a hearing in the European Parliament on the European Citizens Initiative – Right to Water. You can watch the debate live online here on Europarl TV.

Nearly two million people signed this initiative across Europe. It invites the European Commission to propose legislation implementing the human right to water and sanitation as recognised by the United Nations, and promoting the provision of water and sanitation as essential public services for all. The EU legislation should require governments to ensure and to provide all citizens with sufficient and clean drinking water and sanitation. In particular, it wants water supply and management of water resources not be subject to 'internal market rules' and that water services are excluded from liberalisation.

Dave Watson explains on his blog why this is important to Scotland. Here you can read UNISON Scotland's case for defending Scotland's water

17 Feb 2014

Even the Rain - special movie screening Saturday 15 September 2012

Take One Action Film Festivals and UNISON South Lanarkshire Present EVEN THE RAIN, a free community screening at the Blantyre Miners Welfare Community Cinema on Saturday 15th September at 6.45pm.

The film provokes thought about issues such as who has the right to control a nation's resources? Should water supply be controlled for profit? Can working people resist big companies, bankers and governments in order to take greater control over their lives? Scotland's public water supply is seen by some as an opportunity to make money for a few rather than as an essential resource for us all. The fight to keep our water in public hands is ongoing.

There will be a post-film discussion with Stephen Smellie from UNISON Scotland, Mark Langdon, Chairman of GMAC (Glasgow Media Access Centre) and other guests. Plus music from Voces del Sur - songs of exile, love and social change, inspired by the tango and folk traditions from Latin America.

Tickets are free and can be reserved by contacting South Lanarkshire UNISON at unison@southlanarkshire.gov.uk or phone 01698454690.

5 Sep 2012: UNISON Scotland supports the Water is a Human Right campaign

The campaign is urging the European Commission to:

guarantee water and sanitation services for all inhabitants;
keep water services out of internal market rules; and
increase efforts to achieve global access to water and sanitation for all.

This campaign has a particular relevance to Scotland as we are campaigning to keep our public service out of the hands of the privatisers.

The campaign seeks to reach out to all citizens in Europe. Ask your friends, family and colleagues to sign and promote this campaign further. Our demands will only be taken into consideration if we achieve over one million valid signatures. On the signing page of the website www.right2water.eu

This campaign is a means of getting a commitment to the human right to water and sanitation. It is a tool to change the mind-set in the European Commission from a market-based approach with the focus on competition to a rights-based approach with the focus on public service. It aims to achieve universal (global) access to water and sanitation and to safeguard the limited public water resources for future generations.

Water and sanitation are a human right!
Water is a public good, not a commodity!

- Utilities Report to Scottish Council April 2011
Even the Rain - special movie screening Friday 18 March 2011
In conjunction with Take One Action, WDM and University of Glasgow - a special movie screening and discussion panel including Dave Watson, UNISON Scotland.

Even the Rain (Spain, 2010) As a director and his crew shoot a controversial film about Christopher Columbus in Cochabamaba, Bolivia, local people rise up against plans to privatise the water supply. Starring Gael Garcia Bernal.
Click here for details of screening
Defend Scotland's Water!

The sharks are circling again around Scotland's greatest asset - our water. The usual vested interests are using the economic downturn and the impact on public finances to yet again make the case for water privatisation and mutualisation. In this briefing we make the case for a publicly owned Scottish Water.

Click here for
Defend Scotland's Water: A Briefing from UNISON Scotland March 2010 pdf (1.3MB)

See press release for Defend Scotland's Water briefing
30 Mar 2010: Sharks circling Scottish Water - UNISON

See also It's Scotland's Water - the UNISON and STUC discussion paper outlining ways to improve accountability for Scottish Water
www.unison-scotland.org.uk/water/scotland's_water.pdf

UNISON Scottish Water Branch
UNISON is the largest trade union in the Scottish Water Industry. Our 1,100 members belonging to the Scottish Water Branch work in Scottish Water offices and depots throughout Scotland. They are represented in all the functions of the authority, including water and sewage treatment, water and sewer networks, laboratories, call centres and the design and construction of capital works.
The Scottish Water Branch is organised into sections representing members in the main operational areas. The branch sends representatives to the Scottish Water Service Group, which is responsible for representing members within UNISON structures, agreeing policy and managing external relations.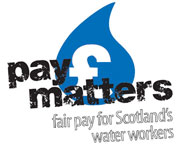 In September 2008 Scottish Water breached six years of partnership working with its staff in order to impose a 15 month pay rise of 3% (which equates to an annual offer of 2.4%). In November 2008 UNISON's Scottish Water Branch members voted by 2-1 in a ballot to take strike action for fair pay. A 24 hour strike began on Thursday 27 November 2008. Further strike action over the Christmas period was averted when Scottish Water made an improved offer. UNISON and the other unions involved suspended action and balloted members in January 2009, when the new deal was accepted.
Click here for more on the successful Water Pay Campaign
Scottish Water
Scottish Water is a publicly owned corporation established in 2002 and accountable to the Scottish Government. It provides water services to 2.4 million households and thousands of business and public sector customers in Scotland and employs around 3,700. Scottish Water has an annual turnover of over £1 billion. In 2007/8 Scottish Water delivered £625 million of Quality and Standards (Q&S) investment to improve treatment works, water mains, sewers and networks, and made a surplus of £195 million. Cost efficiencies totalling £1 billion in the corporation's first four years were passed on to customers.
The water industry in Scotland has been administered Scottish Water since 1 April 2002. At that time Scottish Water employed nearly 6000 staff with a turnover in excess of £600m, on an asset base valued at between £16-20bn.
The commercial and customer regulator is the Water Industry Commissioner for Scotland. The Drinking Water Quality Regulator regulates drinking water and environmental regulation is carried out by the Scottish Environmental Protection Agency (SEPA).
Scotland's publicly owned water and sewerage services have been continually threatened by a combination of competition, huge staff cuts and creeping privatisation. These threats are explained in UNISON Scotland publications and press releases available on this site.
Click here for Chair and Secretary of Committee

Water News
Water Links.................