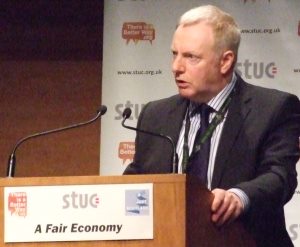 Grahame Smith
Statement by STUC General Secretary Grahame Smith to STUC Congress
Given what has happened over the past week it is understandable that people want to look back - particularly those who suffered at the hands of the Conservative Government's of '80s and '90s:
- the workers who lost their jobs;
- the communities devastated;
- those like us in the trade union movement who had our values of unity, solidarity and community denigrated and dismissed by those without compassion, who value greed and self, who promote division and discord, who hold the poor in contempt and worship the free market.
Apparently - 'There is no such thing as society!'
Reflection on the past is no bad thing if it helps determine how past mistakes can be avoided and progress can be made.
The demise of one right-wing ideologue, however iconic, is of less importance to us than confronting and overcoming the policies of the current breed and debunking the myth that weak unions, minimal employment right, privatisation and deregulation are the prerequisites of economic success.
The real legacy of the 80's and 90's is the UK Government of today.
Our task is to look forward, to move forward.
Despite all their efforts to destroy us, to marginalise us, to cast us as irrelevant, we are still here and we are still fighting and we will prevail.
It is said that history, is written or rewritten by those with the power to do so.
No one writes our history or determines our future but us!
It is important to study history but it is more important to make it!
Congress, of course we must focus on the future - but lest WE forget!
STUC video to follow
See also http://unisonactive.blogspot.co.uk/2013/04/lest-we-forget.html

17 April 2013