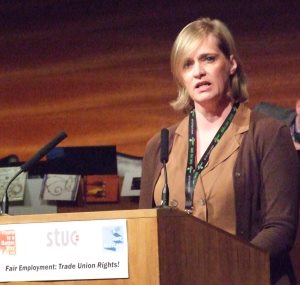 Hazel Marshall
Only one in 170 fatalities and major injuries at work resulted in prosecution in 2010/11 and only one in 65 results in any enforcement action – down by 30%", UNISON's Hazel Marshall told the STUC backing a UCATT motion to strengthen health and safety enforcement.
"As enforcement goes down, accidents and fatalities go up", noted the motion as it called on the STUC to intensify education and resistence to the ConDems' health and safety cuts agenda - and lobby the Scottish Government to support a more robust devolved health and safety legislation agenda, like the new Bill reforming on Fatal Accident Inquiry law.
The motion slammed the increase in fatalities is Scotland from 14 to 20 in the previous year.
Hazel noted that 200 years after Richard Oaster, the first factory inspector, met opposition from government and employers, "some things haven't changed much, we have a government hell bent on reducing HSE inspections and inspectors.
"Reversing the progress gained throughout the years from those early beginnings by stripping back legislation.
"Some, especially smaller Employers, are misled by the negative and false representation by politicians & the media's portrayal of Health & safety, with fears of litigation which contributes to the misunderstanding of the REAL Legal Requirements.
"It is important to empower employees and employers of their ACTUAL legal rights & responsibilities and for Unions at local level to use our rights in law by carrying out regular Work Place Inspections to prevent the denigration of Health & Safety laws that have taken all these years to attain."
Part of Hazel's job is to collate accident and incident forms in her council. "But alongside that I am a UNISON Steward and it's clear that there are many accidents /incidents not being reported, not because of the lack of policies - we have plenty of them.
"In some cases it's a lack of proper training of line managers and staff on how to go about reporting or even what should be reported. So when we talk about statistics we can only guess as to the real numbers involved."
More robust health and safety law enforcement is 'absolutely necessary', said Hazel.
"If the prosecution of Employers is a real possibility then the threat of financial penalties and jail terms will make some business's think twice about flouting the law.
"We must remember that we CAN be a powerful collective that we can send out a rallying call, to support & agitate for a robust enforcement system to provide a forceful fight against the government changes, this we must to do. People's lives depend on this!"
16 April 2013