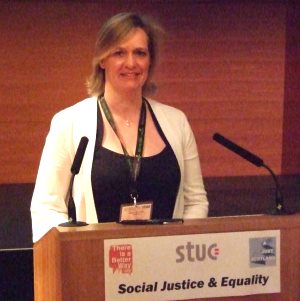 Hazel Marshall
Trade unionists have to push both sides in the referendum debate on how their plans will deliver a just Scotland, a fairer Scotland and a Scotland whose economic policies will tackle inequalities, poor health and deprivation.
After a wide ranging debate, Congress rejected a call to support the Yes campaign and endorsed the STUC's "A Just Scotland" strategy. The STUC will take forward discussions with affiliates, partner and civic organisations, to promote a shared vision of a socially and economically just Scotland, culminating in a large scale summit.
UNISON's Hazel Marshall (See the full text of her speech here) urged delegates to push for answers about what the different proposals will actually mean for working people. She told Congress that we have an opportunity to influence and drive the debate on Scotland's future in a way that can engage our members and the wider population.
"And given the way our politicians seem to prefer insult to argument - I'm not sure that anyone other than us is capable of making this debate seem relevant to ordinary people," said Hazel.
"And frankly congress – the way to do that isn't to line up behind YES Scotland OR it's Better Together mirror image. It's to analyse and to challenge both campaigns. To ask questions and demand answers of all the political parties."
Hazel said that we need to move the referendum debate on from talk about what COULD happen and make parties and campaigns tell us what they intend to do, "to make sure that the debate on the fate of the nation is a debate on the state of the nation."
"A debate where the value – or otherwise - of constitutional change, or no change, is whether it will drive the SOCIAL change that we need."
She reminded delegates that the trade unions have more than 600,000 members. "I would suggest that it would be a foolish politician or campaign that chooses to ignore us," she warned.
"Over the next 17 months we must continue to shape the debate and insist on coherent, focused answers that will allow voters a genuine choice.
"If we want to see real change in the politics of this country then we as a collective representing 600 thousand voting members have the power to influence that change."

18 April 2013