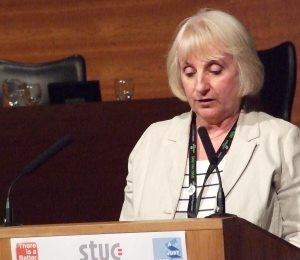 Carol Ball
The STUC will camapign against Scottish Government further education cuts which will 'have a devastating impact on the Scottish economy and workforce'.
Backing an ASLEF motion, UNISON's Carol Ball recalled Alex Salmond quoting Burns declaring that "the rocks would melt in the sun" before he would sanction university tuition fees.
"Welcome certainly - but at the same time as the first Minister was expressing this fine poetic sentiment. The sentiment for students and staff in further education was a bit more blunt.
"They don't have rocks melting in the sun - more shivering darkness to death in out in outer darkness as far as the Scottish government is concerned."
Carol outlines the recent attack on FE colleges: "We've seen a situation where colleges have been merging - not through any particular educational imperative but simply because the budgets have been slashed to such an extent that its a case of merge or close. And that is before the Scottish Government's planned Centralisation process takes place."
1,300 FE jobs have been lost with 80,000 part time college places lost. Yet an SNP backbencher tried to make out that only 'hobby' courses were being cut.
"So asked Colleges what courses have been withdrawn", saiud Carol. "They haven't all got back to us yet – but even the info we have is worrying enough
The CITB block release Bricklaying course at North Highland College
The Full Time – HND in Mechanical Engineering at City of Glasgow College
The part time HNC in healthcare at Clydebank
The SVQ in professional cookery in Inverness
The Vehicle Systems - Body and Paint Maintenence course at Moray college,
The HND in Agriculture in Edinburgh
... and hundreds of others.
"Routes back to employment, mechanisms for improvement, opportunities to fulfil potential. Either cut or gone completely", Carol told delegates.





17 April 2013