Constitutional debate not about powers but what we do with them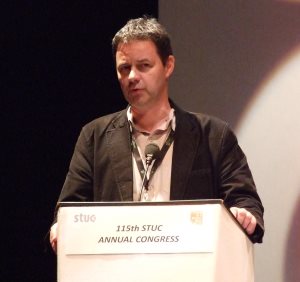 "The answer to all these questions is not a flag, a border or even a list of powers in Edinburgh and London. It is what you intend to do with these powers and for what purpose" Stephen Smellie
As the STUC sets out on a historic campaign to engage working people in the debate on the future of Scotland, it should not be about what powers politicians want, but about "what they want to do with those powers", UNISON's Stephen Smellie told Congress this morning.
He welcomed the first minister's call for union members' questions on independence but the first of those should be "How would we create a fairer society with lower business taxes and monetary control with the Bank of England?" as proposed by the SNP.
"Questions about the status quo, Devo Max and Devo Plus. Could more devolved powers allow us to take rail back into public ownership? Would a constitutional settlement within the UK guarantee and end to child poverty?"
"The answer to all these questions is not a flag, a border or even a list of powers in Edinburgh and London. It is what you intend to do with these powers and for what purpose", Stephen told delegates.
Pat Rafferty of Unite, moving the motion, reminded the STUC that it won't be trade unions or politicians that decide the constitutional future. "The constitutional issues will be resolved by the people" and they deserved as full and wide debate of the kind of Scotland they want to see.

The question that Scotland will be eventually asked was 'too important to be left to politicians', said STUC general secretary Grahame Smith, as he urged politicians to "stop their petty squabbles and political posturing" and come up with a clear question for the people of Scotland. "That last thing we need is a confused result", he said. If the politicians can't decide, he called for an independent commission to do so.
Roddy Robertson of the Fire Brigades Union said his union had already been working with the PCS to engage members in the debate. Organisation and engagement was needed to make sure members are aware of all the issues.
Bill Ramsay from South Lanarkshire and East Kilbride TUC called for 'straightforward questions' of the SNP on 'industrial relations, employment, health and safety. We want direct answers on those and if we get ducking and diving we'll know what the real answers are".
UNISON's Tommy Morrison, speaking for Clydebank TUC, said the question was simple enough, "what does it mean for our people? Constitutional change in itself will not improve our members' position. What will, is democratic control of accountable public services to stimulate growth in the economy for everyone".
ASLEF's Kevin Lindsay backed a vote for 16 and 17 year olds but called for that to be in all votes and elections and not part of some 'gerrymandering' in this one.
It was time for the Scottish Government to tell us "how independence will give us social justice", said Des Loughney from Edinburgh TUC. The STUC has always had a key role in the major decisions facing Scotland and how it consults, engages and eventually decides will have a huge influence on the vote.