Sharks are circling again for Scottish Water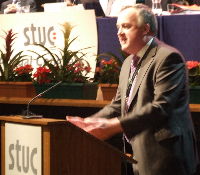 UNISON's Dave Watson warned that 'the sharks are circling again' as the CBI and right wing think tanks campaign for Water privatisation.
He laid into the by Water Industry Commission, led by Sir Ian Byatt, a former privatisation adviser to Margaret Thatcher.
To laughter from delegates, Dave said, "This is the man we the charge payer pay £36k for a flat in Stirling, £11k on flights and £8k on taxis - no wonder he is also a climate change denier - he is causing much of it!"
The Scottish Futures Trust was one of the 'new sharks in the reservoir - or should I say the sewage pipes' as it has 'given up on building schools and hospitals and now wants to argue for the privatisation of Scottish Water.'
This was "apparently at the personal request of its Chair, Sir Angus Grossart. One of the very same breed of bankers who got us into the financial mess", said Dave.
The latest case for privatisation is the financial crisis. "We can't afford Scottish Water - the money should be spent on front-line services. Excuse me, since when is clean drinking water and the avoidance of disease by safely removing sewage, not an essential public service?" asked Dave.
Across the world communities are rejecting privatisation. In Paris, they are taking water back into public control. The most efficient water services in Europe are in public control.
Dave urged delegates to read 'It's Scotland's Water' on the STUC website and tell the 'think tanks, consultants and other parasites - it's our water and it's not for sale".