Alliance to challenge local government cuts: 'Service users pay three times as Edinburgh Council prepares for sell-off Proposals', says UNISON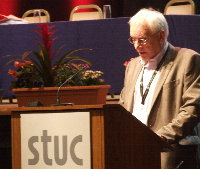 John Stevenson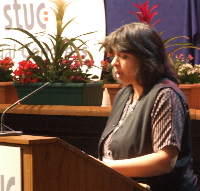 Nahid Aslam
The STUC will support an alliance of unions and the community to seek widespread public support to challenge cuts and privatisation in local authorities.
An composite from Edinburgh TUC, the SSTA, BECTU UNISON Scotland and Inverness and Dunfermline/Cowdenbeath TUCs also called for pressure on CoSLA and the Scottish Government to redress the consequences of the Council Tax Freeze for services.
UNISON's John Stevenson condemned proposals by the Liberal Democrat and SNP coalition in Edinburgh Council to sell-off a fifth of the workforce as a con to pay for the Scottish Government's Council Tax freeze.
UNISON's Edinburgh Branch President was speaking in a debate on public services. He said that council tax payers were now paying three times over to get services they need.
"People are paying their general taxes, their council tax, and now higher charges on top. "
He pointed to hiked charges
He said. "Paying three times over to fund the con about a council tax freeze."
He condemned a the proposed privatisation of a huge swathe of council services as a "multi-million pound Dutch auction … driven by as weird ideological partnership between the Lib Dems and the SNP, backed enthusiastically by the Tories", and pointed out that evidence was mounting to expose this council's model as dangerous.
Comparator councils seem to have been picked to be as little like Edinburgh as possible, one has been slammed on quality, others have lost money and services have had to be brought back in house.
"If private firms corner the market in Edinburgh, they will have the council over a barrel." He said, "And accountability goes out the window."
Other councils have taken some steps in the direction of outsourcing and the use of arms-length companies, but none to the extent of the huge tendering process taking place in Edinburgh.
John queried why the SNP coalition partners were so silent about the process. "Maybe that silence is handed down from Government."
He said. "Because when Alex Salmond said he'd freeze the council tax, I didn't hear him saying he'd sell off jobs and services to pay for it. I didn't hear him say he'd double charges for the elderly to pay for it. I didn't hear him saying he'd starve the voluntary sector of funding."
And he pledged that the trade unions would not be silent. Standing up for jobs and services, they would make sure that the public knew exactly what is happening. "Edinburgh is Not for Sale", he said.
UNISON delegate Nahid Aslam warned that public sector cuts do not just affect people's financial situation "It also affects the mindset of the average person. The rise in popularity of the SDL and other fascist organisations is a direct result of human fear. Already in the media we hear of individuals being attacked because the attacker believes that they are getting more than their 'fair share' of public goods".
"Don't let the high heid yins continue to sow the seeds of tension within our diverse working class communities", said Nahid.