Defend Glasgow Services Lobby
28 June 2012
click here for pdf flyer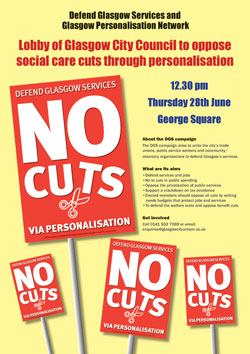 UNISON Scotland, Glasgow Personalisation Services Network and Defend Glasgow Services
Lobby of Glasgow City Council
Thursday 28 June 2012
12.30pm George Square
Personalisation Conference Glasgow 10 March 2012
click here for pdf flyer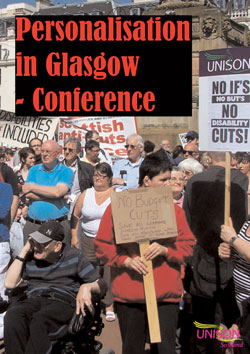 Glasgow Personalisation Conference
Saturday 10 March 2012
10.00am - 2.00pm
UNISON Glasgow City Branch
84 Bell Street, Glasgow, G1 1LQ
UNISON Scotland, Social Work Action Network and Defend Glasgow Services have organised a community conference on Saturday 10th March 2012 which will provide an opportunity for service users, workers, carers and families and those interested in the issues around personalisation to come together.
There will be an open panel discussion, workshops to focus on key issues for all those affected and open floor discussions on latest developments, and the opportunity to hear from and meet those most affected. The conference will also discuss our aims as a wider community group and what we can do to make personalisation work in Glasgow and the whole of Scotland.
This conference will start at 10.30am with registration from 10.00am. Places may be available on the door but to secure your place please contact UNISON Glasgow City Branch, address above on 0141 552 7069 or email enquiries@glasgowcityunison.co.uk by Wednesday 7 March 2012.
Personalisation: empowering service users and carers - or a cover for cuts?

pdf
Jan 2012: campaign briefing
Voice@Work Quarriers Special September 2011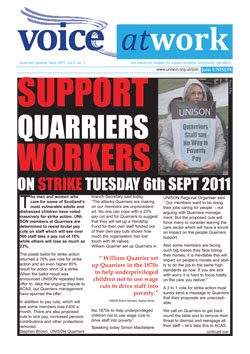 March 2009: Death by a thousand cuts
Feature on Community and Voluntary Sector Lobby of Parliament on Tuesday 17 March 2009.
Voice@Work Issue 20 Spring 2009


(1MB pdf download)
26 Feb 2009: Community and Voluntary Sector Report: Parliament Lobby 17 March.
13 Oct 2008: Voluntary Sector unites to demand Fair Funding
Voice @ Work - Bulletin for all Community & Voluntary Sector members (Summer 2008) now online