Workers' Memorial Day 28 April 2014
Remember the dead, fight for the living
What is Workers Memorial Day?
International Workers Memorial Day (IWMD) takes place all over the world on 28 April each year. The purpose of IWMD is two-fold. Firstly it is about not forgetting those who have died, been injured, or made ill by their work. Secondly it is about ensuring that tragic loss and suffering are used to reinvigorate the campaign for healthier and safer work. The campaign slogan is Remember the dead, Fight for the living.
This year's theme is "WE LOVE RED TAPE, Better Than Bloody Bandages!"
UNISON believes there needs to be a cultural change in the way deaths, injuries & ill health caused by work are seen by employers, the public and the Government. When they are seen as completely unacceptable (in the same way as drink driving for example) then employers will take health & safety more seriously, fewer workers will be put at risk and fewer families will suffer the emotional and financial impact that usually follows. The Health & Safety Executive (HSE) has stated that 70% of workplace incidents are due to poor management systems. According to the HSE statistics for 2011/12 this means that 173 deaths and 223,000 reportable injuries at work could have been avoided if proper health & safety management systems were in place.
No one should be put at unnecessary risk at work. UNISON believes that work related deaths ill-health, and "accidents" are not acceptable. Your employer has a responsibility to ensure that your work does not cause you harm. Not only is it the right thing to do - it's the law!
The demand for safe and healthy work is all the more important as employers continue to implement spending cuts, and the true cost of these become clearer over time.
Staff who remain in post are being expected to do more work increasing the risk of various hazards including: workplace bullying, lone working, manual handling, repetitive strain injuries (RSI), and stress. Other work is not being done, which at first may not be missed, but will lead to greater risks including: worse and increasingly dangerous or unhealthy workplaces, including increased exposure risks to asbestos as building maintenance is neglected.
And at a time when health and safety is set to get worse, the spending cuts are also reducing the ability of the enforcement authorities to inspect and enforce on health and safety. The Health and Safety Executives (HSE's) budget has been cut, as has the money from central to local government (who employ environmental health officers, many of whom are UNISON members).
EVERY YEAR: Around 250 workers are killed as a direct result of injuries they sustain at work
EVERY YEAR: 1,000 people are killed on the roads while driving or being driven as part of their work
EVERY YEAR: Over 20,000 people die every year in the UK as a result of their work
Over 2 million working age people in the UK are living with an injury or illness caused or made worse by their jobs – this figure is equivalent to the combined populations of Edinburgh, Liverpool, Cardiff, Newcastle, Portsmouth and Blackpool
In the Health & Safety Risk Index of OECD industrialised countries, the UK is currently ranked 20th out of 34
The number of HSE inspections of UK workplaces has fallen by 50% the last 10 years
35% - The amount being cut from the Health & Safety Executive's budget over 3 years
EACH OF THESE DEATHS IS A TRAGEDY
EACH OF THESE DEATHS IS AVOIDABLE
HOW TO TAKE PART?
The STUC are organising a Remembrance ceremony during April 2014 (day & time still to be confirmed) at the Peoples Palace in Glasgow Green. Other events will be held throughout Scotland and details will be posted here when we have them.
You could carry out workplace inspections during the week to raise awareness of proper health & safety standards in your workplace.

Please find enclosed materials for circulation and ensure members are made aware of this important issue in your workplace. If you are on Social media, then please 'like' the Facebook page "WE LOVE RED TAPE" & follow on Twitter.
Scott Donohoe
Chair, UNISON Scotland Health and Safety Committee.
Previous WMD events
Events in Scotland on 28 April 2011 (please notify us of others)
Edinburgh: There will be a ceremony organised by Edinburgh trades council at the Memorial Tree in West Princes Street Gardens between 12 noon at 1 pm. There will be come short speeches and contributions and wreaths will be laid at the Memorial Tree. This year there will be an anti cuts theme. Click here for report and photos from this year's event.


Aberdeen: 10am in the Walled Garden, Bucksburn, Aberdeen. Click here for report and photos from this year's event.


Greenock: A Service and Wreath Laying Ceremony will take place in Clyde Sq at 11am. Procession leaving from the Grand Corridor in Inverclyde Council Municipal Buildings. All welcome.


Midlothian: A simple ceremony will take place at the memorial flowerbed in George V Park Bonnyrigg commencing at 12.30.p.m.


Glasgow: There will be a rally in Glasgow at the Robert Burns statue in George Square. It will commence at 11:00.


Fife: Company flags will be lowered, a minute's silence will be observed and an explanatory Safety Bulletin will be issued for WMD at the Babcock plant at Rosyth in Fife.
Bonnyrigg: Midlothian Trade Union Council

Memorial to 'working class hero' Michael McGahey unveiled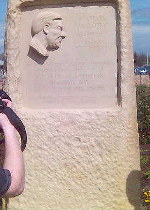 Ex UNISON General Secretary Rodney Bickerstaffe unveiled a statue to mark the 10th Anniversary of Mick McGahey's address to the Midlothian TUC Worker's Memorial Day event. The Annual Memorial Day Commemoration was held at George V Park, Bonnyrigg followed by the unveiling.
UNISON made a substantial donation to the memorial and, among others, was represented by Mick McGahey jnr, Matt Smith (UNISON Scottish Secretary), Agnes Petkevicius, Tom Waterson, John Stevenson and Lui Giacomello. Edinburgh, Midlothian and Lothian Health UNISON Branches laid wreaths at the Workers Memorial Day garden.
Rodney described Michael McGahey as a 'working class hero'. As someone who never lost touch with his roots and socialist values. Also someone who was ardent about health and safety. This was not just about safety at work, but also about building 'economic health and safety'. He listed some of McGahey's sayings which were just as relevant today. "We are a movement not a monument", he quoted as a reminder of the need to continue to move and to fight on.
"We know the reasons why Michael never became NUM President, but whether he had stayed as a steward or a delegate he would still have had a major impact on the movement", said Rodney.

Tributes also came from Eric Clarke, ex NUM Scotland General Secretary. He stressed the importance of Michael's work in promoting a personal survival kit for miners that allowed them time to escape through gas. He also underlined the man's humour and pored scorn on those who may have described him as 'dour'.
David Hamilton MP and ex NUM delegate praised the discipline and purpose Michael brought to representing members. He recalled at one STUC Congress that McGahey had told the miners' delegates that it was 'an honour and privilege to be representing the members' and that they were there 'on the blood and the sweat' of their members.