All change at the top for UNISON Scotland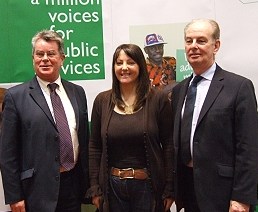 Mike Kirby, Lilian Macer and Matt Smith
Lilian Macer was elected by branches as the new Scottish Convener - UNISON Scotland's lead lay activist - after previous convener Mike Kirby formally took over from Matt Smith as Scotland's lead full time official in December 2010.
A new vice convener will be elected at the February Scottish Council.
General Secretary Election - Dave Prentis re-elected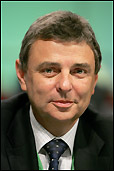 22 June 2010: Dave Prentis has been re-elected as General Secretary of the UK's largest public sector union.
Dave has been UNISON's General Secretary since January, 2001, he said:
"This is a vote of confidence in the union and the direction that we have been taking over the past few years. We face critical times as a union and it is important that we remain united, strong and focussed on dealing with the challenges that face our members.

For more see UNISON UK Press Release http://www.unison.org.uk/asppresspack/
pressrelease_view.asp?id=1900
General Secretary Election
Scottish Region nominates Dave Prentis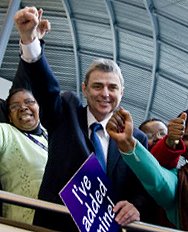 UNISON's Scottish Regional Council voted on 6 February 2010 to nominate current UNISON General Secretary Dave Prentis for the forthcoming election starting in April.
Dave has been General Secretary for nine years and was backed previously by Scotland.
Under the law, rules and employment contract, Dave could have stayed on until retirement without an election but he chose to stand for re-election at the five-year mark to seek a "new mandate to take our union forward" through the difficult times ahead for public services.
Proposing the nomination, Scottish Convener Mike Kirby said, "Dave's skills, experience and leadership make him the only serious choice for UNISON General Secretary".
At 19 February Dave had nominations from over 50 branches, the NEC, two service groups and four other regions.
Dave's election webiste is at www.electdaveprentis.com
The nomination period for the General Secretary election opened on 4 February 2010 and will close at 5pm on Friday 1 April 2010.
Other candidates seeking nomination include Kirklees Branch Secretary Paul Holmes, Knowsley's Roger Bannister and Manchester Metropolitan University's Delroy Creary. See more details on the UK UNISON site.
General Secretary Election 2005
Prentis re-elected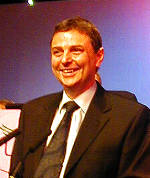 Current General Secretary Dave Prentis has been re-elected following a membership ballot with a substantial majority. Figures were as follows:-

Dave Prentis 184,769 (75.6%)
Roger Bannister 41,406 (16.9%)
Jon Rogers 18,306 (7.5%)
Dave has been the union's General Secretary since January 2001. He said: "This is a vote of confidence in me as General Secretary and all those who work together to unite the union around a mainstream common agenda. The membership has endorsed that agenda and the direction in which we have taken the union.
"Working in partnership with officers and lay members, we have taken the union forward. UNISON is growing in strength and is a strong, united, independent, campaigning union which puts the interests of its members first. "UNISON will continue to stand up for UNISON members, especially where that means tackling Government and those who wield power. That is what members expect and that is what they deserve.
"We will continue our campaigns to defend our members' interests, particularly to defend their pensions, to speak up for public service workers and for the services they provide."
UNISONScotland had nominated Dave Prentis in the election.
Mike Kirby, UNISON Scotland Convener told branch delegates at the union's Scottish Council Meeting that Dave was the candidate who best represented UNISON Scotland policies.
There's no bigger role in the union than that of general secretary. It's one of the most high-profile jobs in the country - leader of the biggest trade union in the UK and the voice of more than 1.3 million public service workers.