Local Government | Health

Local Government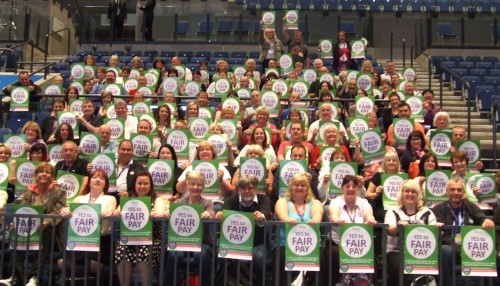 Scotland delegates to UNISON Local Government Conference stand up for Fair Pay. Ballot papers coming out soon. Be sure to vote for action!
Consumer safety means that meat inspection must not be privatised: The privatisation of meat inspection services poses a risk to public health and is bad for consumers and UNISON will fight moves to privatise and de-regulate.
Value our members and give us fair pay
Conference condemned the refusal of Scotland's Local Government employers to negotiate a fair pay increase for their workers and pledged its full support for Scotland's strike ballot and for any action which follows.
Support for scrutinising council budgets:
UNISON will train specialists to help branches analyse council budgets and help identify alternative proposals to the employer's cuts in jobs and services. Andy Barnett raises a laugh. 17 June 2013
Welfare reform is creating widespread hardship and must be reversed
Following a robust and inspiring introduction by UNISON member and Liverpool Mayor, Joe Anderson, when he slammed welfare reforms and their impact on the most vulnerable, delegates overwhelmingly supported a range of measures to fight the Westminster government's attacks on the Welfare State. 16 June 2013
Campaign for living wage and real jobs for modern apprentices
The best way to improve conditions for modern apprentices is to recruit them into the union, Conference was told as it called for a living wage and assured permanent jobs when apprenticeships finish. 16 June 2013
Poverty wages – a publicly funded pay scandal
UNISON will lead a campaign to ensure that every council in the UK and all companies contracted to provide public services, pay the Living Wage to their workers. 16 June 2013
See a Local Govt Conference preview on the unofficial UNISON Active site:
Health
UNISON 's Health Conference was held from 22-24 April at the SECC, Glasgow.
UNISON health conference backs pay campaign
(23/04/13) Challenging low pay and defending Agenda for Change are key priorities
Delegates back Northern Ireland campaign
(23/04/13) Conference hears of privatisation threat
'We have a large number of challenges to face'
(22/04/13) Health workers urged to keep campaigning for the NHS
Union will fight attacks on the NHS
(22/04/13) UNISON health workers will continue to campaign, Glasgow conference hears
'We stand for the millions not the millionaires'
(22/04/13) General secretary Dave Prentis gives tough speech to health delegates
Scottish Health Conference: Scottish Health Secretary to speak at UNISON health conference
Alex Neil, Scottish Health Secretary, is a keynote speaker at UNISON Scotland's health conference in Glasgow tomorrow (Friday 12 April).