Welcome to Conference
from UNISONScotland Convener Lilian Macer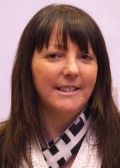 'Our focus is our members and the services we deliverí
Welcome to Bournemouth for UNISON's 19th National Delegate Conference and can I extend a very special welcome to first time delegates at NDC.
As you would expect our main focus since last year's NDC has understandably been to do all we can in the protection of our public services in Scotland.
We are well into the UK coalition government's cuts agenda and our worst fears have as we predicted materialised as their commitment to slashing public expenditure and the services in which we work, and on which our communities rely, bearing the brunt of their attacks.
It is said that the standard of any civilised society can be measured by its public services, its ability to care for those elderly and infirm, the young and learning, at work and out of work and those disadvantaged or disabled.
Indeed the savage attacks which are delivering draconian Welfare Reforms are a reflection on the agenda they continue to push.
In Scotland we have participated in a large number of events both through the STUC and directly organised by UNISON, all giving a clear message that 'there is a better way' and we do have alternatives to the Condem cuts agenda.
This year in Scotland we have had many issues to face, we have and will continue to organise around supporting branches and members to deal head on with a very challenging agenda.
The Police and Fire Reform Bill passed the first stage of the parliamentary process and UNISON believes that the new Scottish Police Authority should be able to decide on a balanced staffing structure free of cosmetic political targets for police officer numbers that were set before the new single force was proposed. That is the proper best value approach.
In May this year the Scottish Government published a consultation document on its proposals to integrate Adult Health & Social Care. This follows years of attempts to bring closer working between the NHS and Local authorities, mainly on care of the elderly. Since 1999 various initiatives have been introduced, to alleviate in the main, delayed discharges of elderly people from acute hospitals and reduce the cost of unplanned admissions to hospitals.
There is also the important matter around Scotland's constitutional future and as the debate moves from the process issues to the type of Scotland we want to be part of UNISON will need to encourage this debate to take place both internally and externally.
This debate will require full engagement with our members with the emphasis on the vision for Scotland placing Public Services at the heart of our discussion.
There is much on our agenda for debate but pensions will again this year be high on our priorities and rightly so. We have worked hard and paid over many years for the right to access our pensions the changes to our provision must be challenged.
Our focus is our members and the services we deliver and our agenda at this year's NDC in Bournemouth has that at its core.
It's the right place to be and I look forward to the debates and focused discussions over the week of National Delegate Conference.