National Delegate Conference 21-24 June 2011
These reports are from a Scotland perspective and where Scotland delegates were particularly involved. For other reports see the UK pages
Conference Review: Everybody agrees it was consensus
Defending our rights to defend our services: After a barnstorming Gordon McKay speech, Conference pledged to campaign to repeal laws that restrict trade union freedoms and to work with a range of organisations to defend our rights through legal challenges.
Cops off the streets and into our jobs: Conference slammed the use of front line police to take over UNISON members' jobs.
'Get organised and stay strong' in the Private and Community sector Conference backed a call to support members in the private and community sector with 14 recommendations and suggestions to branches and regions, along with a national strategy for representating of a fragmented workforce.
Friday Briefing: Cops off the streets and into our jobs, Community Voluntary and Private Sector, Apporenticeships, Education, Opposing the far right and Defending the right to industrial action
Challenging the disgrace of cuts and child poverty: "Twenty seven per cent of children in Manchester live in severe poverty", Aberdeenshire's Susan Kennedy told Conference as it backs a campaign against cuts.
A global response to global attacks: UNISON will add an international dimension to its fight against public sector cuts.
Tools to build an organising union: UNISON agreed a wide ranging strategy to promote the organising agenda within the union as a basis for effective campaigning to face current and future challenges.
Let's defend workers' rights and improve our ability to do so: UNISON will vigorously oppose the Condem Government's plans to further deteriorate trade union rights.
Thursday Briefing: Our NHS Our Future, Organising and Rules
Tribute to Norrie Steele January 1931 - June 2011
Wednesday Briefing 2: Palestine: 'Critical engagement' essential to the struggle and International cuts campaign.
Stop the Great Pensions Robbery - Lilian Macer: "As long as David Cameron is attacking our elderly and trying to blight our futures he's an enemy of decency. As long as he's using pensions as a battering ram for privatisation he's an enemy of decency. Because our pensions are not a perk or a benefit, They're not a bonus or an added extra. Our pensions are part of our wages are part of our security, and our future. And we will not have them stolen from us."
Let's get the messages out there - Cuts are not the cure: We need to nail the lies and the myths peddled by the Tories and their backers in the right wing press if we are to make the case for the defence of public services, says Jane Carolan.
Wednesday Briefing: Fighting the 'tissue of lies' on pensions.
Go back to your branches and prepare for action: Dave Prentis, UNISON General Secretary has vowed that UNISON will wear this Government down, sap their strength, and bring them closer to breaking point, in the defence of Public Services, Public Sector workers and their pensions.
Tuesday Briefing 2: We need to nail the lies and myths and Edinburgh: You've heard the debates, now here's the reality
"Now it's time to fight", says President: Angela Lynes, from Glasgow, called on delegates to join together to fight the cuts during her speech to the union's national delegate conference.
Tuesday briefing: Nothing about us, without us, is for us: Cuts are not the Cure, Women organising against the cuts an Standing Orders explained.
Welcome to Conference from Lilian Macer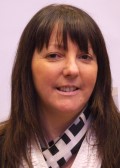 'Our focus is our members and the services we deliver. Our agenda in Manchester has that at its core'
Welcome to Conference
from UNISONScotland Convener Lilian Macer
Welcome to Manchester for UNISON's 18th National Delegate Conference. Can I extend a very special welcome to first time delegates at NDC.
We meet just a few weeks after an innovation in Scottish politics, a majority government for the Scottish National Party in the recent parliamentary election.
A year into the UK coalition government's cuts agenda and our worst fears have begun to materialise with their commitment to slashing public expenditure and the services in which we work, and on which our communities rely, bearing the brunt of their attacks.
As you would expect our main focus since last year's NDC has understandably been to do all we can in the protection of our public services in Scotland.
It is said that the standard of any civilised society can be measured by its public services, its ability to care for those elderly and infirm, young and learning, at work and out of work, those disadvantaged or disabled.
As UNISON we demonstrated our commitment to maintaining quality public services when tens of thousands of us took to the London streets on 26 March in defence of our Public Services. There was a sea of green and purple marching behind UNISON banners from every region with Scotland leading from the front.
In Scotland we have participated in a large number of events both through the STUC and directly organised by UNISON, all giving a clear message that 'there is a better way' and we do have alternatives to the Condem cuts agenda.
With, for example, the cost of a new fleet of Trident nuclear missile submarines possibly more than doubling to £25bn by the time they are built, the decision to plough money into Trident has left a sour taste in the mouth of the millions hit hardest by the Government cuts.
UNISON Scotland believes this huge sum could be used to save the economy and stop the loss of thousands of jobs, saving vital services that we deliver to the most vulnerable within our society.
The £25bn does not even include the price of warheads, running costs and the bill for leasing Trident missiles from the US. We know that there is an alternative to the Government's cuts agenda.
Cracking down on the tax avoiders and tax havens, raising a Robin Hood Tax on the banks and making taxation fairer, would save billions at the same time as safeguarding our recovery.
While the bankers continue to award themselves obscene amounts of money in bonus payments, there is a 50% increase proposed for our pension contributions, which is simply a tax to pay back government debts that were raised to bail out the banks. None of the money will go into the schemes and it threatens the whole system if members opt out.
Overall the pension changes mean:
Higher pension contributions
Increases in retirement age
All 27 of the Hutton Commission recommendations - closing the current schemes and creating new ones
The end of pension protection if you face privatisation l
The change to annual pension increases will be calculation from RPI to CPI
Public service pension schemes have around 7.3 million pensioners and approximately 5.4 million active members. Including dependants, 20 million people are with us in the fight to defend public sector pensions.
There is much on our agenda for debate but pensions will be high on our priorities and rightly so. We have worked hard and paid over many years for the right to access our pensions and these proposed changes must be challenged.
Our focus is our members and the services we deliver. Our agenda in Manchester has that at its core. It's the right place to be and I look forward to the debates and focused discussions over the week of National Delegate Conference.