National Delegate Conference 16-19 June 2009
Stories by Kate Ramsden, Jane Aitchison and John Stevenson
These reports focus mainly on debates moved by Scotland or where Scotland speakers took part. For more stories see the UNISON UK site
NEW: Click here for Photo Gallery
Practical strategies to defend and invest in public services to bring us out of recession Conference overview by John Stevenson
Tired of feeding the hand that bites them As a response to Labour's latest plans to extend privatisation to a new level within the National Health Service, Dave Prentis, has called on Labour Link, formerly UNISON's Affiliated Political Fund, to suspend constituency development payments to the party.
Defending our public service pensions Conference condemned attacks on public sector pensions by press and politicians and recognized that this threat will only grow if a Tory government get into power at the next general election. Kate Ramsden takes key role in debate backed by Agnes Petkevicius.
Standing up for Social Work - Scotland presents manifesto UNISON Scotland's John Stevenson previewed our Social Work Manifesto at a Local Government fringe meeting on Sunday.
Putting people before profit Delegates united around a detailed and comprehensive strategy moved by Jane Carolan to put people before profit and defend public services through the economic crisis.
Young members: Get them in - get them active Veteran UNISON member Scottish Retired Members' Delegate and Honorary Young Member, Lily McNaughton, gave a rousing speech in support of the work of young members, backed by Graham Smith.
Protection for workers too as new safeguarding schemes are set up "Whilst we support the commitment by the Scottish Government to ensure local communities flourish and become stronger, safer places to live we believe that the cost of this registration should not be borne by our members", said Lilian Macer.
Procurement: Get in early to protect members While fighting to keep services in house, Mike Kirby says UNISON Regions and Branches must also get involved in commissioning and procured processes at an early stage to try to protect jobs and services.
Domestic violence/abuse underlined as a workplace issue Conference backed a strategy to negotiate workplace agreements on domestic abuse, giving better support to victims, but failed to grasp the nettle of what to do about perpetrators. Aberdeenshire's amendement remitted and Edinburgh's lost.
Trades Union Councils have key role in public services campaign UNISON pledged to step up its Positively Public Campaign, highlighting the importance of public services and the role played by the people delivering these services in laying the foundations of a fairer society and a more sustainable economy for the future. Tom Morrison stresses role of Trades Union Councils.
Reach out and strengthen the labour movement In an inspiring speech,Tom Woodruff, Executive Vice President, of the Service Employees International Union (SEIU) warned UNISON to notice the signs and make sure that our country does not follow the same path as the US.
Standing up for public service workers and users Public service employment has a critical role in stabilizing the economy and counteracting the effects of the recession.
New structures give greater bargaining voice Conference adopted new structures for bargaining and negotiation, designed to give a greater voice to the diverse range of bargaining groups across the union, like the Community and Voluntary Sector. Mike Kirby, Lilian Macer and Stephen Brown all join in debate.
Time to address mileage rates 'disgrace' UNISON will seek urgent negotiations with the Inland Revenue for an increase in the seven year old 40p 'approved' mileage rate.
Disabled people disproportionately affected by recession Conference committed UNISON to continuing its work to protect disabled people from further poverty caused by the recession and discrimination - Mary Platt makes first speech to Conference.
Palestine: Boycott and review of relationship with Histadrut UNISON took a step further in its support for a sovereign independent and democratic Palestinian State when it threw its weight behind a boycott of goods from the illegal Israeli settlements, urging the government to support a ban. Mike Kirby urges measured approach.
Celebrating 50 years of Cuban revolution Conference gave a warm welcome to Maria del Carmen Rodrigues Reys, the General Secretary of the SNTS, Cuban health service union.
We must push on with green policies UNISON is to raise its game to ensure climate change policy is put into action and will work with employers to achieve a low carbon economy, backing a joint motion from the NEC and Edinburgh - Kevin Duguid contributes.
Vice president Angela Lynes read out a message of support fror the jailed Burma leader as delegates held up photos of Aung San Su Kyi.
Reach out and take back our world. Let asylum seekers work Conference backed and East Midlands motio calling for a change in the law to allow asylum seekers to work and UNISON will engage with the TUC's "Let them Work" Campaign
Calman Commission Reports UNISON Scottish Secretary Matt Smith sat on the Calman Commission. Here he looks in detail at the recommendations that could take devolution to the next stage
Calman recommendations must go before 'civic Scotland' The final report of the Calman Commission was published yesterday bringing forward a range of key proposals for taking forward devolution in Scotland.
Conference Briefings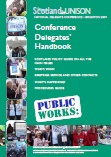 Throughout Conference week, the Scottish Communications and Campaigns Committee will issue daily briefings for delegates and update these web pages with selected reports on issues from a Scotland perspective. Use the links on the right to see the pre-briefing information going out to delegates.
Meeting of Scottish Branches on: MONDAY 15 JUNE 5.00PM Barcelo Brighton Old Ship Hotel, Kings Road, Brighton
PLEASE NOTE CHANGE OF VENUE - Click here for map (pdf)
Local Government Branches will also meet at 5.30 on Saturday 13 June in the Grand Hotel.
Standing Up For Social Work: Fringe meeting Sunday 12.45 - 1.45 Beta Hall West. As part of the meeting, John Stevenson will preview Helping People Change Their Lives, UNISON Scotland and BASW Scotland's joint Manifesto for Social Work, set to be launched on 25 June. Sean Fox, Haringey, and Jim Board, Doncaster will also lead the debate.
Arrangements for Distribution of Card Voting Booklet
This will be managed in a different way to previous years. Branches will collect card voting booklets on the first morning of Conference, before conference starts, from the card vote collection point at the Brighton Centre.
DETAILS - All card vote books can be collected by branches from the card vote collection point (CVCP) as follows
LGSGC
Saturday 13th June 2009 15:30 to close
Sunday 14th June – 08:30 onwards
Monday 15th June 08:30 onwards
NDC
Monday 15th June from 15:30 (unless LGSGC has a card vote)
Tuesday 16th June from 08:30 onwards
Wednesday 17th 08:30 onwards.