10 years of Conference snippets
from the pages of Scotland inUNISON and Conference Briefings
1994: The first UNISON Conference set the tone for the future as it changed the rules from a 'member-centred' union to a 'member-led' union.
This was the week's positive after earlier chaos with a threatened walk-out about a range of things but mainly fears about the political funds.
The relationship of APF structure to UNISON Conference was also laid out by the NEC and Conference eventually voted two to one that it could not instruct the APF how to vote on Labour Party matters. 10 years later, we're still wrangling about it.
Issue No 1 of Scotland inUNISON appeared in November 1994.
Oh, and we voted for a day of action.
1995: Lay control stramash
Huge stramash about lay control of the union's structures (in particular communications) saw a Scottish branch emergency motion dash the NEC plans.
UNISON becomes the first union in the world to set up a website.
1995 also saw the ballot to confirm the two option political funds and it was won.
Scotland's priority in the Conference was backing for a Scottish Parliament but it didn't get heard,
We voted for a day of action.
1996: Funnies not on
Funnies in the Conference Briefings were not seen that way by everybody, prompting a story which read "Mike Kirby and Scottish Council share a sense of humour. They've got to - Scottish Council doesn't have one."
That aside, we really went for a Scottish Parliament this year, enlisted Wales on our side and won it.
PFI, National Minimum Wage and a 5 year finance plan for UNISON also featured..
We voted for several days of action.
1997: New Labour Government - such hopes
We welcomed a new Labour Government, so we did. And we set out a shopping list for a wide range of issues in a composite from Edinburgh, Glasgow, Newcastle, Manchester, St Helens, Barnsley and the National Executive calling on the next government to "pursue policies which will boost the economy and restore a welfare state based on universally high quality services"
We called for a Scottish Parliament again and won again.
Conference gave unanimous support to the sacked Pall Mall workers at Hillingdon.
We demanded that UNISON put a motion on a minimum wage of £4.26 an hour to the TUC.
Oh, and we backed a day of action.
1998: Ireland thanks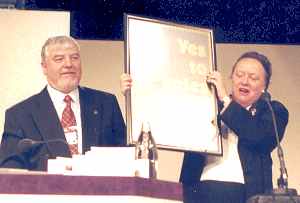 Scotland's John McFadden was our President and Northern Ireland Secretary Mo Mowlam paid tribute to UNISON's role in the Ireland peace process.
She thanked Northern Ireland UNISON members for "what you have done as a union to get us where we are in the process today".
It was not just what UNISON members had done, it was also how they had done it,.
"The way you work... through inclusion made a great difference as to how people work".
Conference reaffirmed the right of branches, regions, service groups and self organised groups to campaign to change union policy, but outlawed the funding of 'outside' political groups or factions.
The debate prompted Rodney Bickerstaffe's famous speech, "What's a faction? If it looks like a duck and it walks like a duck and it quacks like a bloody duck, it is a duck. I know what a faction is. You know what a faction is."
We also got into the annual wrangle about disciplinary procedures - and we voted for a national demonstration on the minimum wage - this time it was a biggie. A UNISONScotland train took members to join 25,000 marchers in Newcastle for the event on April 10 1999.
1999: Scottish Parliament's first programme
SiU circulated the first legislative programme for the Scottish Parliament, announced during the Conference week.
The way we organise the agenda changed from a run-through to themes, largely like it is run now.
Scotland had a pivotal role in the two major composites on Public Services, Public Finances and Taxation and the effect of European Economic and Monetary Union on public services and regional development and industrial policy.
The Hillingdon strike was still high on the agenda and emotions spilled over with SiU reporting intimidation when a delegate faced a "tirade" from a member from London after she had spoken against a misleading motion on the Hillingdon strikers.
We debated disciplinary rules again and got nowhere.
We won an emergency motion demanding full consultation on UNISON Welfare's decision to close its convalescent centres, but they closed anyway.
Scottish branches won five Communications Awards
We voted against several days of action.
2000: Bye Bye Bick
2000: The Defend Council Housing campaign was to the fore and as were the lessons from the Stephen Lawrence inquiry.
Clifton McGowan gave a moving address to Conference on his family's plight following the racially motivated murder of his brother, Errol, and cousin, Jason.
Scotland's motion on the need for UNISON's resources to be devolved to where they are most needed was won.
The week was dominated by the retiral of Rodney Bickerstaffe as general secretary. In an exclusive interview with SiU Conference Briefings, he sai,d as he spoke of how the trade union movement had got to where it stands today,
"We stand on giants' shoulders.
"At the STUC I recall McGahey and Airlie, giants of the trade union movement.
"But they are all giants, be they members, stewards or leaders, high or low paid who have passed us the banner.
"This is not us, it is they who have brought us to where we are.
"Everyone has to hand over the banner as I will hand it over to Dave Prentis, as each of us here will hand it over to those who follow. The job is to make that banner shine more brightly".
The SiU view reported that Conference
- rejected perennial navel-gazing
- rejected bite after bite at the same narrow agenda cherry
- supported practical and achievable strategies to defend our members and our services.
Wow!
2001: Political Funds review
Despite recovering from illness, Dave Prentis stamps himself as general secretary with an inspiring speech.
NEC to consult with APF and GPF committees, service groups, self-organised groups, regions and branches, and prepare a report for Delegate Conference 2002 on the future of UNISON's political funds.
GATS hits Conference big this year with the first detailed motion demanding government should not sign up, and supporting activities opposing GATS in 2001.
Stephen Byers MP got booed - reported live on Radio Scotland when a delegate was giving an interview over the phone!
2002: Fighting racism
If what makes sense is what works - PFI doesn't, Scotland's Jane Carolan told Conference as it slammed PFI again.
UNISON Scotland again played a key role in the economic debates.
Racism was a major concern with a call for local campaigns to oppose the BNP, culminating in this year's Manchester demo.
Veteran ANC campaigner Denis Goldberg gave a farewell speech as he returned to South Africa.
Conference complained that the political funds review wasn't finished.
Opposition to war in Iraq overwhelmingly carried. UNISON Scotland twinned with SAMWU
Big rammy about NEC members getting up (well, down) and speaking against NEC policy. However Conference vote seems to think this is OK. This is apparently because they represent the wider membership. Try telling that to your branch when you get up and speak against its policy!
Look out this year, a rule change is having another go at this.
John Stevenson SIU Editor