Mon 5 Sept 2011
Social care staff facing pay cuts of up to 23 per cent prepare to strike, says UNISON
Hundreds of social care staff who are facing pay cuts of up to 23 per cent will go on strike tomorrow (Tuesday), says UNISON.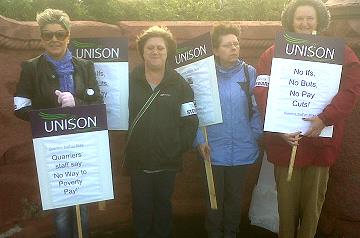 6 Sept Update: Quarriers UNISON members on the picket line this morning

Staff at Quarriers - one of Scotland's largest social care charities - are striking in opposition of a package of cuts that will see some staff taking huge reductions in wages as well as higher pension contributions, reduced sick pay and cuts to their terms and conditions.

Quarriers staff carry out some of the most difficult work with some of the most challenging and vulnerable members of our communities. More than three quarters of UNISON members voted in favour of strike action last month and will down tools tomorrow for 24 hours as part of their campaign to protect pay and conditions. Members will be picketing workplaces across Scotland as well as holding a demonstration and rally in George Square, Glasgow.

Further talks between UNISON and Quarriers took place today (Monday) after the charity – who initially refused to take their proposals to the conciliation service ACAS despite repeated requests from UNISON – decided late last week to enter into talks. However, this broke down when Quarriers was unprepared to begin a process of constructive negotiation.

Simon MacFarlane, regional organiser for UNISON, said: "We're very disappointed that these talks have failed. UNISON was prepared to engage meaningfully in these last-minute talks but, sadly, Quarriers did not see the benefit of doing so.

"Our members don't want to take strike action but with talks failing and Quarriers looking to impose pay cuts of up to 23 per cent, we've been left with no other option. Some of our members are facing cuts of around £400 a month which is not only unfair, but completely unaffordable and will have a devastating impact on these workers.

"UNISON was prepared to enter into constructive talks to discuss a way forward and we remain committed to doing so."

Stephen Brown, branch secretary of UNISON Quarriers, said: "Taking strike action isn't a decision we've taken lightly and we want to be back at work doing what we do best – providing vital services to some of the most vulnerable people in society.

"The cost of utilities, food and transport are all going up and yet Quarriers expect our staff to take a pay cut of up to 23 per cent in some cases. Our members are rightly worried that they'll no longer be able to afford to keep a roof over their head or be able to feed their families.

"These brutal cuts are unheard of throughout the rest of the country and Quarriers staff shouldn't be singled out. Politicians of all parties and at all levels should be looking closely at this situation and asking themselves if this is how they expect Scottish charities to behave. By decimating workers' terms and conditions, it's only a matter of time before they decimate the vital services our members provide."


Public actions in support of Quarriers strike on Tuesday 6 September 2011

Rally and demonstration - Simon Macfarlane, regional organiser, and Stephen Brown, UNISON Quarriers branch secretary, will be available for interview.

• GLASGOW, GEORGE SQUARE: 12 noon – 1pm.


Pickets - Members will be picketing at the locations below:

• GLASGOW, JAMES SHIELDS, 100 POLLOKSHAWS ROAD: 8am–10am.
• GLASGOW, STOPOVER, 200 POLLOKSHAWS ROAD: 8am–10am.
• ARDROSSAN, SEAFIELD SCHOOL, 86 EGLINTON ROAD: 8am–10am.
• SALTCOATS, GREEN STREET: 8am–10am.
• BRIDGE OF WEIR, QUARRIERS VILLAGE: 8am–10am.


ENDS


Notes to editors:

1. UNISON members in Quarriers will strike from Tuesday, September 6, at 8am until Wednesday, September 7, at 7.59am.

2. The result of the postal ballot on strike action was 76 per cent in favour of strike action with 24 per cent against.

3. Quarriers has warned its staff not to speak to the media about the attacks on their wages and conditions, however, full details of the proposed cuts, including impact statements by members, can be found online at www.quarriersunison.org.uk/15941_69001.4039.html.


For further information contact:
Contact Stephen Brown, branch secretary, on 07584 503 858, or Simon Macfarlane, regional organiser, on 07703 194 132, or Trisha Hamilton, communications officer, on 07939 478 461.