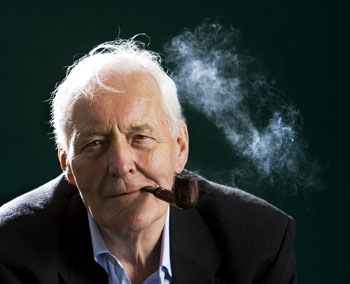 Tony Benn 3 April 1925 - 14 March 2014
An event to celebrate the life and work of Tony Benn - sponsored by four main Scottish Trade Unions - Aslef, GMB, UNISON and Unite the union and also supported by PCS.

It involves a number of workshops, a spoken word event, and a major concert organised by FairPley in Glasgow Mitchell Theatre on Nov 30.

The concert is being curated by singer-songwriter, Rab Noakes, and will also star Chris Difford of Squeeze, folk legend Roy Bailey, Karen Matheson and Donald Shaw of Capercailie, James Grant, political song doyen Arthur Johnstone and Alastair McDonald with other guests.


Tickets for these events are available from the GRCH box office on 0141 353 8000 or http://www.glasgowconcerthalls.com/events/tony-benn-a-celebration-concert/

New Release: 21 October 2014
Tony Benn's granddaughter to speak at Glasgow celebration

Emily Benn, the granddaughter of former parliamentarian and campaigner Tony Benn, has agreed to speak at November's Glasgow celebration of the politician's life, organisers announced today (Tuesday 21 October).

She will speak as part of the major concert in Glasgow's Mitchell Theatre organised for 30 November. the culminating event in a day also involving a spoken word event, and series of workshops.

Neil Findlay MSP from the organising committee welcomed her commitment, and said "It was always important to the organisers that the Benn family supported this event. We are delighted to have that support, and especially delighted that Emily is able to be present."

Emily Benn said "I am really pleased to be able to attend and say a few words about my grandfather. A proud half-Scotsman, he loved attending public meetings across the country, I know the public support meant a great deal to him. I'm looking forward to coming to Glasgow to pay tribute to him."

Emily Benn daughter of Tony's eldest son Stephen, works in the City of London and is a Labour councillor in the London Borough of Croydon. She was recently selected as the Labour Prospective Parliamentary Candidate for Croydon South in the forthcoming Westminster Elections.
The event to celebrate the life and work of Tony Benn is being sponsored by four main Scottish Trade Unions - Aslef, GMB, UNISON and Unite the union and also supported by PCS. It involves a number of workshops, a spoken word event, and a major concert organised by FairPley In the GRCH on Nov 30. The concert is being curated by singer-songwriter, Rab Noakes, and will also star Chris Difford of Squeeze, folk legend Roy Bailey, Karen Matheson and Donald Shaw of Capercailie, James Grant, Political song doyen Arthur Johnstone and Alastair McDonald with other guests.

Tickets for these events are available from the GRCH box office on 0141 353 8000 or http://www.glasgowconcerthalls.com/events/tony-benn-a-celebration-concert/

News Release: 22 September 2014
Tony Benn's Life and Work to be marked in Glasgow

A major Scottish celebration of the life of Tony Benn is being announced today (Monday 22).

Taking place in Glasgow's Mitchell Theatre on November 30 this year, the plan is for a series of events through the afternoon culminating in a substantial concert in the evening.

Singer songwriter Rab Noakes has agreed to curate the concert which will also feature Chris Difford of Squeeze, folk legend Roy Bailey, Karen Matheson, Donald Shaw, James Grant, Arthur Johnstone, and Alastair McDonald . Also planned is a spoken word event in the afternoon, along with discussion workshops on topics close to Tony's heart

Neil Findlay MSP from the group set up to support and promote this event, said
"A number of our major trade unions felt it was important that a campaigner like Tony, who had strong links with Scotland, from UCS up to the present day, should be recognised and remembered here. We're delighted to have the support of the Benn family for the event."

The day is being supported by Aslef, GMB, UNISON and Unite in Scotland, who have commissioned FairPley – the people who organised Tony Benn's sellout appearance at Celtic Connections in 2013 – to produce the show.

Stephen Wright, one of the directors of FairPley, said
"It was a real privilege to organise Tony's appearances in Scotland over the last few years, at the Fringe, Celtic Connections and the UCS 40th anniversary celebrations. We're delighted to be involved in this major event to mark Tony's life and legacy."

Further addition to the line-up will be announced as they happen, but advance tickets have now gone on sale at -
http://www.glasgowconcerthalls.com/events/tony-benn-a-celebration-concert/

For Further Information please contact
Chris Bartter - 07715 583 729
Stephen Wright 07734 350 247