Dae Yeh Mind Thon Time?: Tales from the Dundee Tenements
by Mae Stewart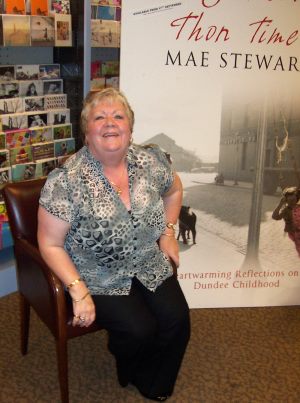 Mae at the launch of
Dae Yeh Mind Thon Time?
Thanks to Dan McRae for the pic
Dundee Retired Member Mae Stewart writes and produces the UNISON Scotland Retired Members' Information web pages. If that wasn't enough to keep her busy, she has now published a book, launched on 17 September 2009 at Waterstone's in Dundee.
Mae was brought up in Dundee in the 1940s and 50s. It was a world without television, inside toilets or electric light but full of fun, adventures and some fascinating characters.
In Dae Yeh Mind Thon Time?, Mae now recounts her childhood years in way we can all relate to and recalls the women who brought her up, days at the Washies, high days, holidays and the daily routines of life.
Dae Yeh Mind Thon Time? is a nostalgic look at life in the tenements and a candid and affectionate excursion down memory lane.
Click here for more information on the Waterstone's website