Show Racism the Red Card aims to combat racism by using footballers to present an anti-racist message to young people and others. Events are held throughout the year across the country at local and national football grounds. The campaign also works in schools and produces a number of educational resources including films, DVD, education packs, posters and magazines.
The campaign has been able to involve hundreds of top footballers and managers, and has harnessed the high profile of these role models to combat racism.
UNISON has a great record of challenging racism and Show Racism the Red Card gives us an opportunity to show our commitment.
As a charity Show Racism the Red Card needs financial support and this is where you and your branch come in. Simply download a leaflet and fill in the standing order mandate, either as a branch or as an individual.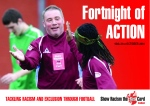 Show Racism the Red Card fortnight of action 15-31 October 2010