These leaflets are for Branches with members in Glasgow Central and North East constituencies.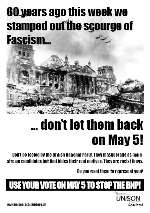 The BNP are standing in these Scottish constituencies and these have been produced as part of UNISON's anti-racist campaign to counter their racist poison, and prevent them gaining a foothold in Scotland. They are designed to be distributed to UNISON members in the specific constituencies.
Click here or on the picture to download the A4 leaflet in PDF format (162kb).
Click here if you need more information about PDF files.