UNISON is the largest union in Scotland's education service. Our Education Issues Group has representatives from across Scotland and across the wide occupational diversity that UNISON represents.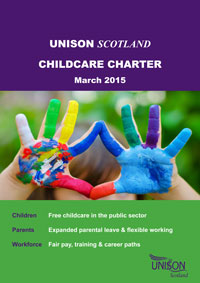 UNISON SCOTLAND Childcare Charter
March 2015
Children: Free childcare in the public sector
Parents: Expanded parental leave & flxible working
Childcare should be provided free at the point of use by the public sector. The current system is patchy, complex and expensive. Parents in Scotland pay 27% of their household income on childcare, compared to the OECD average of 12%. We need a radical overhaul of childcare provision to ensure that it provides what families actually want: a safe nurturing environment for their children that doesn't cost the earth.
Images for the Childcare Charter campaign
| | |
| --- | --- |
| | |
| Image 1 | Image 2 |
| | |
| Image 3 | Image 4 |
| | |
| Image 5 | |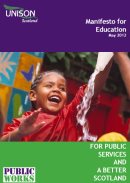 Local elections May 3 2012 Education manifesto
The provision of integrated services that provide high quality education, childcare and additional support to our youngest citizens and their families, is instrumental in reducing the effects of child poverty and supporting the best outcomes for children in the future.

Keeping education under local authority control is the best way to ensure that the services that families and children need are properly integrated.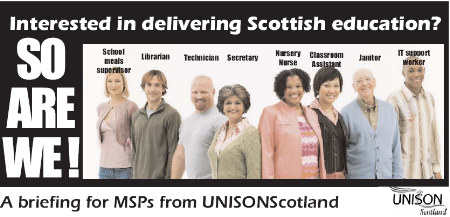 June 2011: Education in Scotland is delivered by a whole team of people, not just lecturers and teachers. UNISONScotland represents the majority of these vital education staff. In this paper UNISON lays out key strategies to help our members improve the delivery of education in Scotland (pdf).