CROWDING OUT OR ADDING VALUE?
PUBLIC SECTOR SPENDING AND REGIONAL ECONOMIC DEVELOPMENT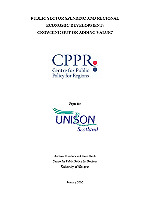 Recently there has been a series of newspaper articles claiming that the public spending in Scotland has grown too big and is bad for the economy in general.
UNISON asked the Centre for Public Policy for Regions (CPPR) to review the evidence for these claims. They found that not only is Scotland's public sector similar in size to other small European countries but also that a large public sector can be good for growth.
The CPPR has reviewed the evidence and found nothing to indicate a link between high public spending and poor private investment in the UK. International comparisons show that low public spending has not been the key to successful economies, or high public spending to poor performance. Levels of public spending and the allocation of resources within them are decisions to be made by the people of Scotland and pushing forward the unsubstantiated "crowding out" theory does nothing to take the debate forward about the size and shape of Scotland's future vital public services.
"Meanwhile, as the venerable Observer economics correspondent, William Keegan continually reminds us in his column, the UK's better economic performance than much of the rest of the European Union in the first half of the 2000s was due to increased public sector investment at a time when private sector investment and growth was relatively static."