Spiralling fuel costs mean a choice for many between heating and eating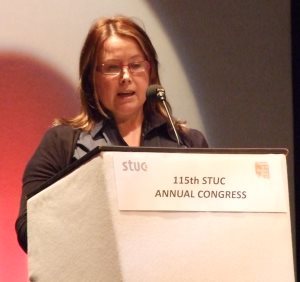 Susan Kennedy
The cost of heating and keeping warm is leaving more and more of us having to make stark choices on whether to "heat or eat", whilst the "Big Six" energy firms see their profits multiply. The STUC will work with the Scottish Government and a range of other organisations to eradicate fuel poverty and campaign for a return to public ownership of the energy companies.
Supporting this strategy, UNISON's Susan Kennedy told Congress of the serious impact soaring fuel costs have on our members, their families, friends and neighbours, especially in the current economic climate of rising living costs, pay freezes and benefit cuts.
"With fuel costs set to rise again we can only predict a further rise in households being affected. And the latest economy figures back up our worries, with utility fuels being stated as the biggest factor for rising inflation," said Susan.
She warned of the particular impact on the low paid, disabled and retired, who are already being put at risk of health problems because of insufficient heating in their homes; having to make choices that no one should be having to make in 2012.
Susan welcomed the Scottish Government pledge to eradicate fuel poverty in Scotland by 2012 by improving energy efficiency in homes, "but this initiative falls a long way short of the action needed to see a serious reduction to families suffering fuel poverty and to further reduce the cost of heating in our homes."
She ended with a stark warning. "The dilemma of heat or eat will be coming to a home near you very soon if we do not take action now."