Date: 22 April 2008
Equality Award win for UNISON activists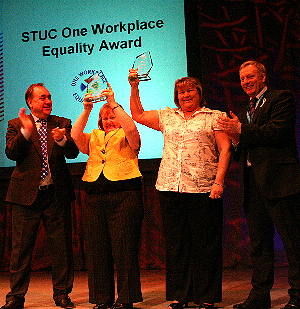 First Minister Alex Salmond celebrates with Marion Stewart, Elaine North and STUC General Secretary Grahame Smith
This morning (22nd April), First Minister Alex Salmond presented this year's STUC One Workplace Equality Award 2008 to Marion Stewart, Branch Secretary and Elaine North, Support for Learning Assistant at Maxwellton High School in Dumfries and steward for UNISON Dumfries and Galloway Local Authority Branch at the STUC Annual Congress in Inverness.
The award recognises the role of Scottish trade union members in challenging discriminatory practices and attitudes in the workplace Both award winners led the successful Classroom Assistants campaign last year that saw a planned proposal to cut up to 70 Classroom Assistant posts withdrawn by Education officials.
The campaign culminated with a 6000 signature petition being given to the Council and over 2000 postcards opposing any cuts being sent directly to elected members.
UNISON in Dumfries and Galloway have also lodged over 300 equal pay claims on behalf of Classroom Assistant members and the award recognises Marion's & Elaine's successful work with their Branch and nationally to eradicate the historical gender pay inequalities and promote equality of opportunity for all workers.
Matt Smith UNISON's Scottish Secretary said today: "Elaine and Marion have congratulations from everyone in UNISON for their excellent organising work that has not only won this award, but shown how important the union's work on equal pay is, both to deliver for low-paid women workers, and to deliver fair pay structures in the longer term."
Grahame Smith STUC Gen Secretary commented: "It is entirely appropriate that the award this year goes to a group of low-paid women workers who stood up for fairer treatment, with the support of their union. They deserve all our congratulations in showing that to stand up for fair treatment can deliver results."
The STUC One Workplace Equality Award highlights the work of the STUC's ground breaking One Workplace Equal Rights Project which has, since its launch in 2004, supported trade unions in Scotland in promoting equal opportunities issues in the workplace by offering support, targeted training and advice to trade unions, employers and employees on rights at work and on promoting and bargaining for inclusive work practices.
Dumfries & Galloway UNISON spokesperson, Alan Bradley said: "UNISON representatives locally and nationally have a key role to play in solving problems for workers everyday from the smallest grievance to major strategic issues. Tackling inequality and discrimination by supporting their fellow members who are being discriminated against is just one part of this. The Branch is delighted that Marion & Elaine's tireless work in leading the campaign last year has been recognised."
Marion says, "After so many years as an activist to be recognised for my efforts in this way is just amazing. I feel that this award is in recognition of all the effort put in by my Branch colleagues and members in promoting Equality in our Council and to the thousands in Dumfries & Galloway who supported the Classroom Assistants campaign".
Elaine says, "I am delighted and very honoured to have received this award and this recognition will only help to promote UNISON's fight for fairness and equality in the workplace."
Ends
Notes for editors: UNISON have jpeg's of Marion & Elaine - please contact Graham Abrines if you wish one to be sent to you. We also have pics of the award ceremony. Contact Chris Bartter
For more information contact UNISON - Alan Bradley, 01387 257393 Graham Abrines, 07841 968441 Chris Bartter (Communications Officer) 0771 558 3729(m) STUC - Zaffir Hakim, Development Manager 07970261411