Briefing 51
Local Government Financial Statistics 2000-2001
The Local Government Finance Statistics branch of the Scottish Executive have recently published the Scottish Local Government Financial Statistics for 2000-2001.
This publication gives information on local government finance in Scotland as well as providing information on the income and expenditure of police and fire services for the year 2000-2001.
The figures in the publication are broken down to show both capital and revenue accounts and also the split between the different service accounts operated by local authorities. The figures on Local Authority accounts within the publication are split into three broad sections these are Income and Expenditure, Outstanding Debt and Local Taxes.
Section 1 – Income and Expenditure
Scottish LA accounts have two distinct constituent parts, the Revenue Account and the Capital Account.
Revenue Expenditure covers the cost of maintaining local services and includes costs such as employee salaries and service operating costs.
Revenue Income comes from a variety of sources including Government Grants, local taxes, sales, fees and charges on local authority services.
Capital Expenditure relates to the provision and improvement of tangible fixed assets such as schools, new houses and machinery that continue to be of value long after their acquisition.
Capital Income is made up mostly from the sale of these assets.
Income
Scottish Local Authority gross income in 2000-01 was £13 billion. This can be split into gross revenue income of £12.8 billion and also gross Capital income of £0.2 billion, coming mostly from the sale of fixed assets. Revenue income excluding special, common good and superannuation funds was £10.9 billion in 2000-01. Of this, £5.6 billion came from government grants; £1.8 billion from fees and charges, £1.7 billion from non-domestic rates and £1.3 billion from council tax. For percentage breakdowns of LA income from 2000-2001 see Figs 2 and 4 below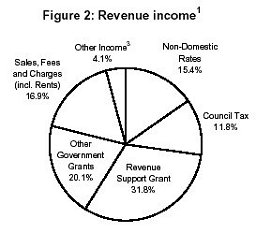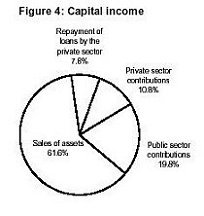 Source: Scottish Local Government Financial Statistics for 2000-2001.
Expenditure
In 2000-01, Scottish Local Authority gross expenditure was £12.8 billion. This was split into gross revenue expenditure of £12 billion, and gross capital expenditure on land, buildings and other major assets of £0.8 billion. Revenue expenditure on general fund services, housing and trading services i.e. excluding special, common good and superannuation funds was £11 billion. Just under half of this £11 billion local authority revenue expenditure went on education (£3 billion) and housing services (£2.3 billion) in 2000-01. A further £1.6 billion went on social work services, with revenue expenditure on law, order and protective services amounting to almost £1.1 billion. Approximately 40 per cent of local authority revenue expenditure on general fund, housing and trading services was accounted for by employee costs with 45 per cent on operating costs and a further 10 per cent on loan charges. For percentage breakdown of LA expenditure for 2000-2001 see figs 1 and 3 below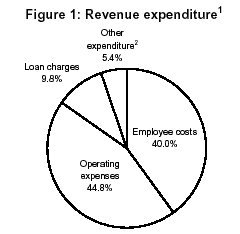 Figure 3: Capital expenditure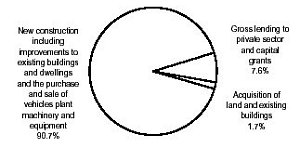 Source: Scottish Local Government Financial Statistics for 2000-2001
Section 2 – Outstanding Debt
The publication reveals Scottish LA debt for 2000-2001 amounts to £9.9 billion. These figures are broken down into their constituent parts for the general fund, trading services and the housing revenue account as follows;
General fund services are those services financed principally from non-domestic rates, council tax and revenue support grant and include education, social work, roads and transport, law, order and protective services and cleansing. The figures for 2000-2001 show that total relevant debt of all Scottish LAs amounted to £6.3 billion and for non-relevant debt the figure was £0.5 billion.
Trading Services & Housing RA
The costs of servicing debt on local authority Trading Services are met mainly through the charges made for these services, whilst the costs of servicing Housing Revenue Account (HRA) debt are met principally from income from rents and from Housing Support Grant. The figures for Trading Services show total Scottish Local Authority debt at £104,078, whilst Housing Revenue Account figures show overall debt standing at £3.5 billion for 2000-2001.
Section 3 – Local Taxes
Local taxes are an important element of financing for local authorities accounting for a quarter of all Scottish Local Authority revenue income. There are essentially two different types of tax levied by local authorities, domestic taxes (council tax) and non-domestic taxes (non-domestic rates — NDR). The publication shows that at April 2001 the total non-domestic rateable value of all Scotland's local authorities stood at £4.3 billion. In addition, Scottish Local Authorities income from non-domestic rates stood at £1.6 billion and income from Council Tax stood at £1.6 billion also.
Information for branches
Be aware that the publication provides a useful breakdown of Scottish LA spending on services including employee costs. For example out of a total expenditure on Law, Order & Protective Services of £1.04 billion employee costs stood at £920 million. Of this £736million was spent on Police and £182 on the Fire Services.
Contacts list:
Dave Watson - d.watson@unison.co.uk
@ The P&I Team
14 West Campbell St
Glasgow G26RX
Tel 0845 355 0845
Fax 0141-307 2572